Posted in: Book writing software by Edwin on October 18, 2009
Background: Writing Outliner is a Microsoft Word addin that is intended to make writing book-length documents in Word easier, by adding various functions (such as edit multiple documents in the same time, view and search research materials/notes, etc) to Word. It's currently under development. You can sign up for the newsletter to get informed or become a beta tester.
Start from now, as the development  goes I will post some screenshots of  Writing Outliner Word addin, to show how it makes writing easier in Word.
The Welcome pane of Writing Outliner Word addin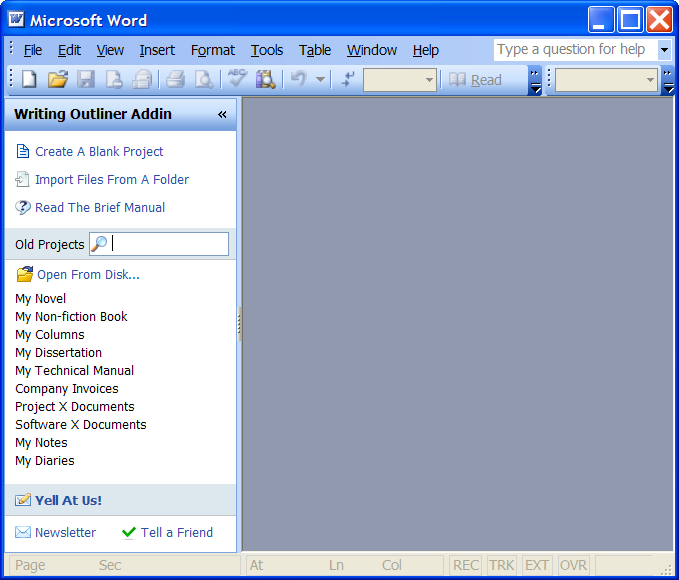 Once Writing Outliner addin is installed, you will see the Welcome pane showing on the left in Word's main window, as you can see the above screen shot, Writing Outliner is seamlessly integrated into Word.
Like Word's built-in 'Getting Started' task pane, the Welcome pane of Writing Outliner addin helps you to get your writing projects started easily.
On the top you can click 'Create A Blank Project' to create a blank writing project, or click 'Import Files From A Folder' to quickly create a writing project by using your existing documents, researches and notes, this is extremely useful because you must have already a lot of existing documents written in Word or other writing programs, or you can just use this function to import all your documents froom 'My Documents' just to utilize the full text search feature of Writing Outliner addin.
In the middle the Welcome pane  lists  all your existing writing projects for your fast and easy access, you can even instantly filter the project list by name, what you need to do is to input a string in the search box.
On the bottom of the Welcome pane, some links are provided for sending us questions and feedbacks easier.
Writing Outliner Addin is your ultimate writing tool for Word
From the screenshot above you can see that Writing Outliner addin is not only good for writing book-length documents, but is also good for all kinds of writings including, but not limited to columns, thesis, technical manuals, project documents, software development documents, diaries, and so on.
Keep an eye on my blog and I'll post new Screenshots from time to time 😉