Tag Archives: Corkboard
Posted in: Book writing software, Version History by Edwin on March 27, 2020
I'm excited to announce that WritingOutliner version 1.9.39 has been just released.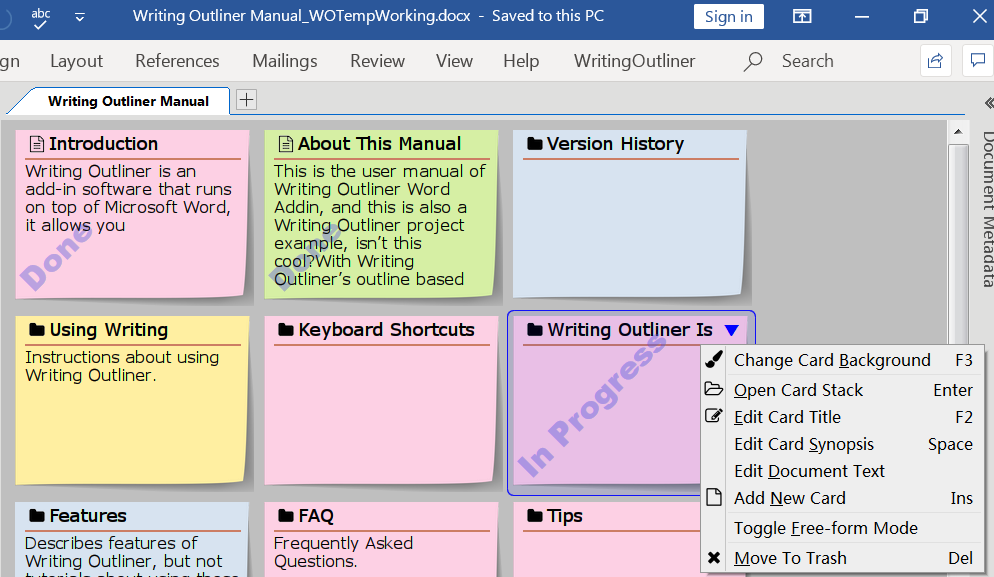 Among a bunch of other improvements, two of the major new features are:
Color index cards for the corkboard
Full support for high resolution screens such as 4K monitors. See the video below.
Posted in: Index card software, Version History by Edwin on January 21, 2011
Just added a new page that shows the new corkboard (index card) view for the Screenshots section of the Writing Outliner website.
I think now with the newly added ability to treat each documents in a writing project  as an index card,
Writing Outliner can be called an index card software.
Posted in: Writing Software by Edwin on December 14, 2010
Update: A new version with the corkboard view has been released.
The screenshot of the Corkboard (index cards)
in case you don't want to view the video below  but it's highly recommended !