Tag Archives: writing a book in Word
Posted in: Book writing software, Word addin by Edwin on November 13, 2009
Well, I haven't been adding new blog posts recently,  but I'm working really hard on my Writing Outliner Word addin development these days, and  I'll be shortly posting new screenshots which will show how in the current stage this Word addin for writer will look like when working on a writing project  😉
And I'd like to thank you all guys who have signed up for the newsletter, and those who have emailed me your suggestions and comments, you are actually giving me more motivation (which I have a lot already, but you know,  the more, the better ;), and you are enriching my 'field knowledge' during  our communication which will help the Word addin developer a lot.
Background (for new visitors):
Writing Outliner is an addin for Word which is aiming at turning Microsoft Word™ (all versions of it, from Word 2000 to 2007 and the upcoming 2010) into an all-in-one book-length document writing tool, it allows you managing you whole writing projects easily, to view and search research files right inside Word, in one place with your drafts, to outline long documents and write in pieces, and so on, you can check the details on home page of Writing Outliner Word addin.
Posted in: Word by Edwin on October 20, 2009
For people who want to write a book, be it a novel or a technical manual, this article contains  very helpful information, including using styles to simplify the format tasks, navigating your book, generating table of contents, and so on.
On the other hand, this informative tutorial shows the weaknesses of Word as a book writing software, and those weaknesses are exactly what Writing Outliner Word addin is trying to solve. For example, that article tells you how to navigate your long document, how to generate the table of contents, how to format the section names and chapter names of your book, how to edit  each part as a separated file and combine them at the end, and so on, you'll find these tasks are still involves  quite a few hassles, and the good news is, these tasks will be  extremely easy with Writing Outliner Word addin, I promise 😉
Posted in: Book writing software by Edwin on October 18, 2009
Background: Writing Outliner is a Microsoft Word addin that is intended to make writing book-length documents in Word easier, by adding various functions (such as edit multiple documents in the same time, view and search research materials/notes, etc) to Word. It's currently under development. You can sign up for the newsletter to get informed or become a beta tester.
Start from now, as the development  goes I will post some screenshots of  Writing Outliner Word addin, to show how it makes writing easier in Word.
The Welcome pane of Writing Outliner Word addin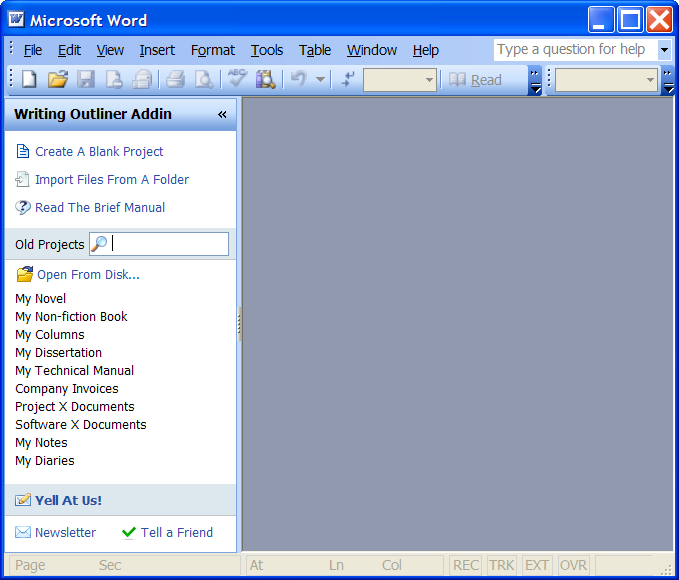 Once Writing Outliner addin is installed, you will see the Welcome pane showing on the left in Word's main window, as you can see the above screen shot, Writing Outliner is seamlessly integrated into Word.
Like Word's built-in 'Getting Started' task pane, the Welcome pane of Writing Outliner addin helps you to get your writing projects started easily.
On the top you can click 'Create A Blank Project' to create a blank writing project, or click 'Import Files From A Folder' to quickly create a writing project by using your existing documents, researches and notes, this is extremely useful because you must have already a lot of existing documents written in Word or other writing programs, or you can just use this function to import all your documents froom 'My Documents' just to utilize the full text search feature of Writing Outliner addin.
In the middle the Welcome pane  lists  all your existing writing projects for your fast and easy access, you can even instantly filter the project list by name, what you need to do is to input a string in the search box.
On the bottom of the Welcome pane, some links are provided for sending us questions and feedbacks easier.
Writing Outliner Addin is your ultimate writing tool for Word
From the screenshot above you can see that Writing Outliner addin is not only good for writing book-length documents, but is also good for all kinds of writings including, but not limited to columns, thesis, technical manuals, project documents, software development documents, diaries, and so on.
Keep an eye on my blog and I'll post new Screenshots from time to time 😉