Posted in: Book writing software, Version History by Edwin on January 20, 2020
Update 1: Now both 32-bit and 64-bit editions of Word are supported! In other words, WritingOutliner supports all Word versions/editions now!
---
Great news! WritingOutliner now supports all the new Word 2019, Word 365, Word 2016, Word 2013, and so on!
You can now download and order the new version. It's real, see a screenshot (WritingOutliner inside the newest Word 365):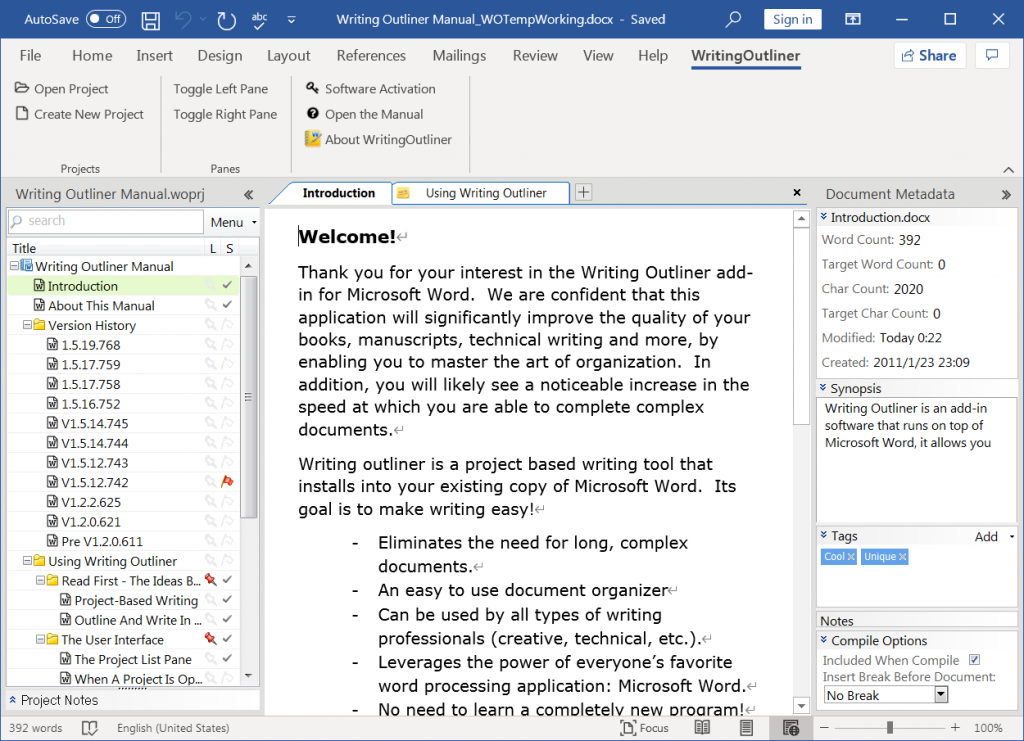 Previously I've announced the new DocxManager product, and later after I communicated with a lot of WritingOutliner customers, I came to the conclusion that these two software are quite different in some aspects. So from now on they'll be developed in parallel.
That being said, from now on WritingOutliner as an Word add-in will be continued to be developed, enhanced and stabilized. While DocxManager will be focused on the "document manager" and "website builder" part, WritingOutliner's goal will be remained as turning Word into a perfect outliner and writer's tool!
The new WritingOutliner's has gone through significant development but the details are not included in this post, just a note – WritingOutliner currently supports only the 32bit version of Word which is installed by default, so I guess most people use 32bit version of Word. And 64bit Word support is coming – actually the development's done, but it still needs more testing so it's not released yet.
If you are an existing customer, you should have received your upgrade coupon.