Posted in: Book writing software by Edwin on October 18, 2009 | No Comments
Background: Writing Outliner is a Microsoft Word addin that is intended to make writing book-length documents in Word easier, by adding various functions (such as edit multiple documents in the same time, view and search research materials/notes, etc) to Word. It's currently under development. You can sign up for the newsletter to get informed or become a beta tester.
Start from now, as the development  goes I will post some screenshots of  Writing Outliner Word addin, to show how it makes writing easier in Word.
The Welcome pane of Writing Outliner Word addin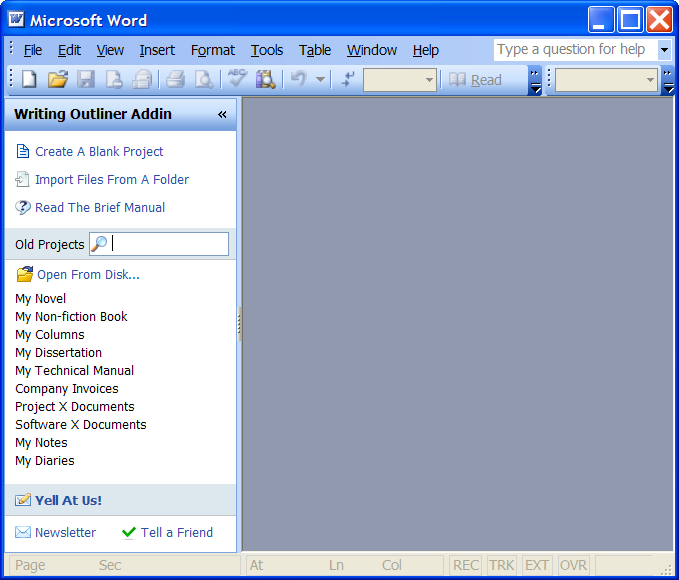 Once Writing Outliner addin is installed, you will see the Welcome pane showing on the left in Word's main window, as you can see the above screen shot, Writing Outliner is seamlessly integrated into Word.
Like Word's built-in 'Getting Started' task pane, the Welcome pane of Writing Outliner addin helps you to get your writing projects started easily.
On the top you can click 'Create A Blank Project' to create a blank writing project, or click 'Import Files From A Folder' to quickly create a writing project by using your existing documents, researches and notes, this is extremely useful because you must have already a lot of existing documents written in Word or other writing programs, or you can just use this function to import all your documents froom 'My Documents' just to utilize the full text search feature of Writing Outliner addin.
In the middle the Welcome pane  lists  all your existing writing projects for your fast and easy access, you can even instantly filter the project list by name, what you need to do is to input a string in the search box.
On the bottom of the Welcome pane, some links are provided for sending us questions and feedbacks easier.
Writing Outliner Addin is your ultimate writing tool for Word
From the screenshot above you can see that Writing Outliner addin is not only good for writing book-length documents, but is also good for all kinds of writings including, but not limited to columns, thesis, technical manuals, project documents, software development documents, diaries, and so on.
Keep an eye on my blog and I'll post new Screenshots from time to time 😉
Posted in: Book writing software by Edwin on September 25, 2009 | No Comments
In our under-development  project – Writing Outliner, the outliner is one of the  main parts of the writing software, it turns Microsoft Word™ into a true outliner software.
So what is a outliner
Well, the word outliner in the Windows world is not used as widely as it's in the Mac world,  but you must be familiar with the similar words: folders, tree or hierarchy, right? The following are some examples of using a outline to manage information:
Microsoft Office Outlook uses folders to organize emails into groups.
Windows Explorer uses folders to manage all your files in your computer.
Scrivener, the famous book writing software for Mac uses a outliner to manage all documents in a book writing project.
Evernote, the famous note taking software uses hierarchical treeview to manage the notes it clipped.
Why outliners are so useful?
With a hierarchical outline view, you can view and manage the information at a larger scale without going into the details, this make it easier to get an overview and take control of the structure of a large amount of information.
Why Microsoft Word™ needs a outliner?
Let's take writing a book as an example, with an outline view you can view and manage the book chapter by chapter, if you have ever written a book with Microsoft Word™ without the help of other software you should know the pain when navigating such a long document to find something for amendment.
How Writing Outliner™ differs from other outliner softwares?
Writing Outliner is specifically designed for writers, outlining is only one of the main features of it, and there are other many features such as full text search, index cards, tagging, writing-task-related document properties, second viewer for viewing research materials, taking notes, and so on, for making the writing process smoother and easier.
It's seamlessly integrated into Microsoft Word™, so you can make good use of the industry leading word processor.
Note: Writing Outliner is currently under development and it'll be come a versatile writing software  for writers, if you are interested you please sign up our newsletter so that you can get informed when it's ready (for beta testing or purchasing).
Posted in: Book writing software by Edwin on September 18, 2009 | No Comments
Well, this blog title maybe look weird, but I think it's quite a good way to explain what the Writing Outliner software project is all about.
What is Scrivener software?
Scrivener is a Mac software for writing books developed by a brilliant developer called Keith, it's a versatile software tool for writing a book, be it a novel, a non-fiction story, a technical manual, or even a series of related documents such as columns.
While Scrivener has many features that make the book writing process easier, I think one of the big ideas behind Scrivener is that writing a book is not a process that simple start writing  from the very beginning straight to the end, but rather it's a creative process that combines taking notes, jotting down ideas that sparks at any moment,  outlining the book structure, editing different chapters back and forth, final formatting and so on.
Why this writing software project started?
Scrivener inspired me when I was thinking of how to make our mind mapping software MindVisualizer more friendly for book writers, and with the help of my friend David who is a very nice  and knowledgeable guy, this book writing software project was started.
What's the difference between Scrivener and Writing Outliner?
The main difference:
Writing Outliner is for Microsoft Windows PC system while Scrivener is for Apple Mac computer.
Writing Outliner is a Word addin that integrates seamlessly into Microsoft Word™ while Scrivener is a standalone program.
Writing Outliner will provide some kind of mind mapping feature for capturing and organizing book writing ideas by integrating withMindVisualizer.
kudos to the author of Scrivener Keith and great thanks to my friend David! Stay tuned!